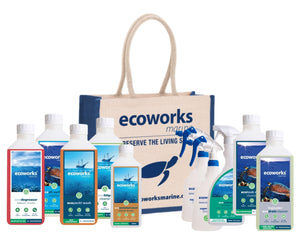 The Fully Prepped Spring Cleaning Kit provides all the essentials you need to get your boat back on the water this season.
10% off this kit with Free Shipping
The kit includes -

1 x Ecoworks Jute carry Bag

1 Litre Yacht Wash

1 Litre Degreaser

1 Litre Bilge Cleaner

1 Litre All Surface Cleaner

750ml Rib Cleaner

500ml Varnish Wood & Wax

1 Litre FOG Buster (Drain and Grey Water Additive)

750ml Natural Sanitiser - Tested and approved EN14476

2 Reusable Trigger Sprays
Everything in this kit is -
Formulated with naturally derived ingredients

Phosphate Free

pH neutral

Fully biodegradable and environmentally safe formula.

Excludes all watch list raw materials

No animal testing

VOC free

Post consumer plastic, reuse, recycle and reduce CO2e 

0% manufacturing waste
* Please note: online sales from this website are only available in the UK. To buy from a local supplier, visit our stockist page. Or to make a wholesale enquiry, get in touch.

Free delivery on all UK orders online over £15.